luxuryhome
Viking VEDO5302SS 30-inch Electric Double Wall Oven Review
Does the 5 Series have what it takes to reinvigorate Viking?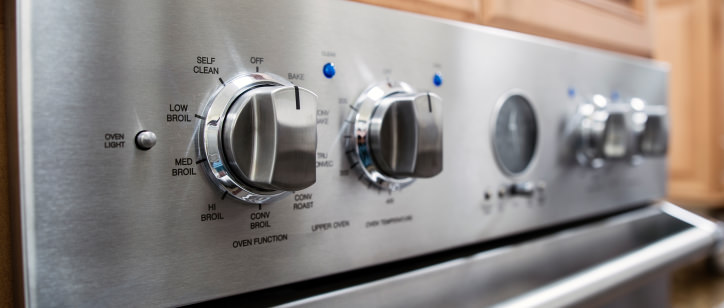 Credit: Reviewed.com / Chris Snow
There are several variations of the Viking VEDO5302SS. Read More These include the Viking VEDO5302BK, Viking VEDO5302WH, Viking VEDO5302AR, Viking VEDO5302GG, Viking VEDO5302CB, and Viking VEDO5302BU. They are very similar to the Viking VEDO5302SS in most respects.
The Viking VEDO5302SS 30-inch electric double wall oven (MSRP $6,369) is whatever you want it to be.
Available in stainless steel or any of six color choices, it's designed to have a classic look. But regardless of which finish you choose, it boasts convection in both 4.7-cubic-foot oven cavities, and features a glass infrared broiler, three TruGlide racks, a number of optional modern finishes, and a three-year warranty.
We spent some time with the VEDO5302SS and had no major complaints. It did everything we asked it to, and did it well. However, it's important to note that this Viking is playing in a crowded field. For instance, Miele's M-Touch double wall oven may cost a around $1,500 more, but it bakes and roasts perfectly and has one of the most innovative interfaces we've ever seen.
If you prefer the Viking's classic looks, the Thermador PODC302J will save you a few hundred dollars over the Viking—and it performs just as well. It also beats the Wolf E-Series double wall oven when it comes to features.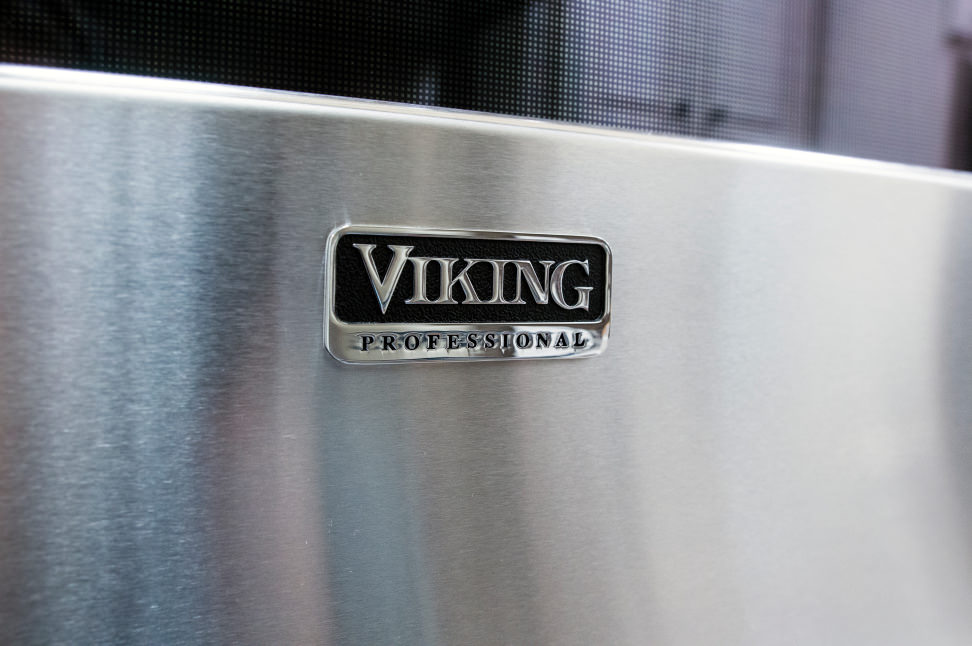 But if you want custom colors, a classic aesthetic, or a wall oven that matches a Viking range or cooktop, you can't go wrong with the superb VEDO5302SS.
Design
A refinement of the old standard
The VEDO5302SS fits squarely in the middle of the high-end manufacturer's wall oven lineup. The double wall oven is part of Viking's 5-Series—the traditional bread-and-butter of what Viking has to offer—and slots between the more contemporary 3-Series and the downright luxurious 7-Series. Within the 5-Series.
First and foremost, the VEDO5302SS is beautiful. Viking has managed to build a product that looks and feels both solid and elegant, blending a professional aesthetic with a number of modern conveniences and features. For instance, the analog clock still connects to a digital timer and temperature display. Depending on preference, the VEDO5302SS can either be installed completely flush with your cabinetry, or it can stand out.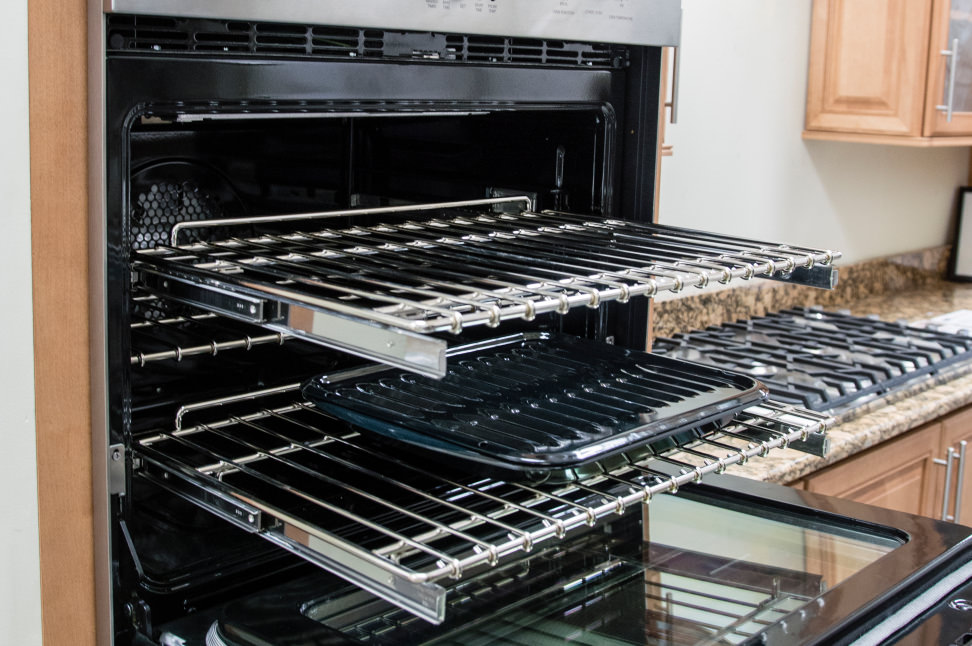 Each oven cavity is controlled with a dedicated pair of sturdy, removable, and weighted dials. The dials on the left control the upper oven, while the right dials control the lower oven. There's a satisfying "clunk" when switching between cooking modes, while the temperature dials are smooth.
Each oven has the following cooking modes: Bake, Conv Bake, Tru Convec, Conv Roast, Conv Broil, Hi Broil, Med Broil, Low Broil, and Self Clean. Not included on the dials are Convection Dehydrate and Convection Defrost. To use Convection Dehydrate, set the oven to Tru Convec and set the temperature to 125°F. Convection Defrost also involves setting the oven to Tru Convec and keeping the temperature at 0°F.
In the center is the analog clock/digital temperature and timer combo. Below the clock/timer are buttons to control Timer, Start Time, and Probe, and a central dial for setting the clock and timer. We found the dial to be extremely responsive, and we had no trouble fine tuning the timer by the seconds.
Inside each cavity you will find two standard racks and one TruGlide rack. The TruGlide works as advertised, extending out of the oven cavity completely, making it easier to move heavy cookware in and out of the oven. The action is also exceptionally smooth.
The same cannot be said for the standard racks, which are extremely difficult to position thanks to protruding pieces of metal at the rear of the oven cavity.
Advertisement - Continue Reading Below
Customizability
Within the Viking 5-Series, the VEDO5302SS is the middle child, eschewing the touch control panel found in the more expensive VEDO5302TSS. The VEDO5302TSS also comes equipped with additional features such as Gourmet-Glo,Autoroast, Proof, as well as personalized recipe functions.
For more budget minded consumers, there is the VEDO1302SS. The VEDO1302SS is the cheaper of the three 5-Series double wall ovens and lacks some of the more attractive features such as the glass-sealed infrared burner, TruGlide rack, meat probe, and analogue timepiece/clock.
While the model we tested had a stainless steel finish, shoppers can choose from a number of fun colors such as Black, White, Graphite Grey, Apple Red, Cobalt Blue, and Burgundy. Colors add around $730 to the MSRP.
Additional racks can also be purchased such as the 30" TruGlide full extension rack, the broiler pan rack, and the broiler pan rack and tray
Baking
The upper cavity is the tops
The VEDO5302SS's two 4.7-cubic-foot capacity ovens proved particularly effective at cooking even and uniform baked goods. As is often the case with luxury ovens with multiple slide-out racks, both cavities took a while to preheat. We recorded a 13 minute preheat time for the standard bake mode in both ovens, while the convection setting shaved 2 minutes off the time, resulting in a 11 minute preheat. Meanwhile the excellent glass-enclosed infrared broilers warmed up in a flash. Both broilers took 6 minutes to reach 606°, a speed that will have you finishing off French onion soup in no time.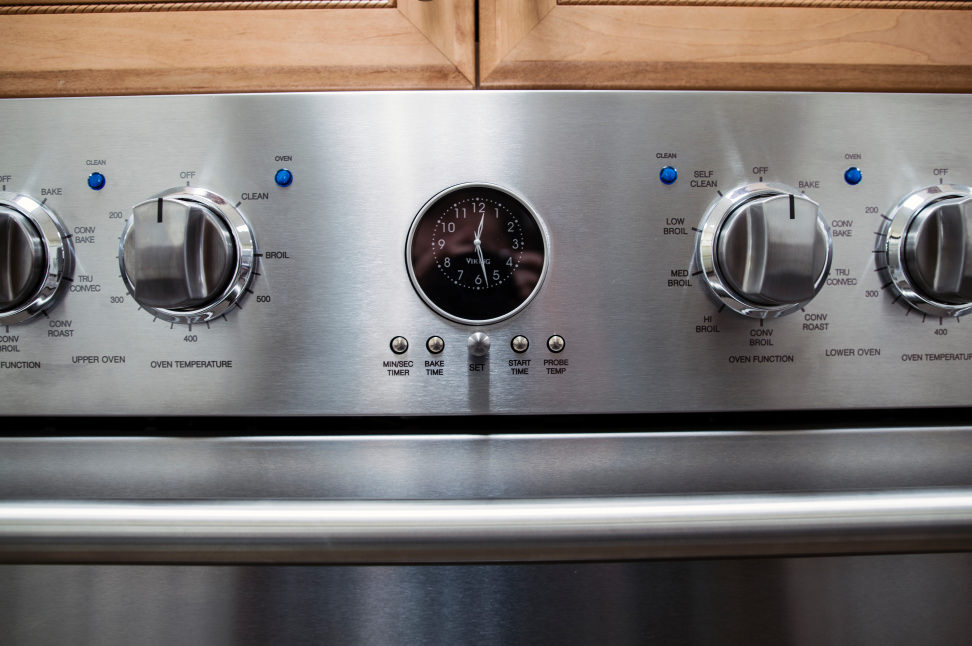 After baking a batch of cookies and two cakes and measuring their surfaces with a photospectrometer, we found that the VEDO5302SS did an excellent job at even baking in the upper cavity, while the lower cavity's results lagged a bit behind. No matter what, you're going to want to use convection.
With the standard Bake setting, we got cookies that showed little noticeable difference when placed side by side, a sign that the oven didn't have any major hot or cold spots. However, cakes baked with the standard setting were unevenly cooked.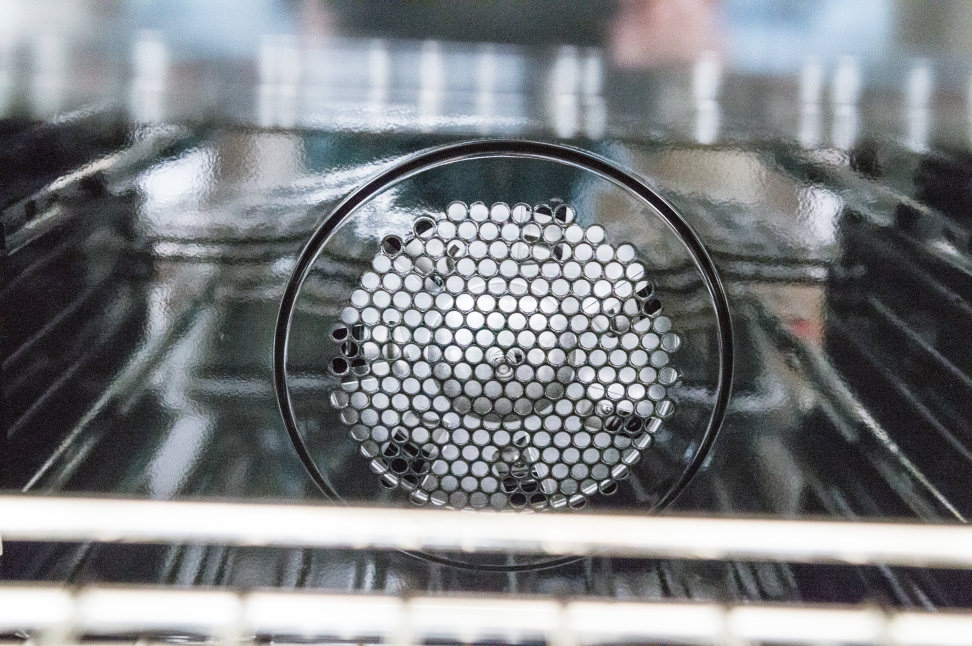 When we selected Tru Convec, however, evenness and uniformity improved a great deal. The two cakes we baked using convection were pretty much clones—our photospectrometer couldn't detect a significant difference between them. And even though cookies were fine on the standard setting, they were slightly more uniform when baked with convection—and they took less time to bake, too.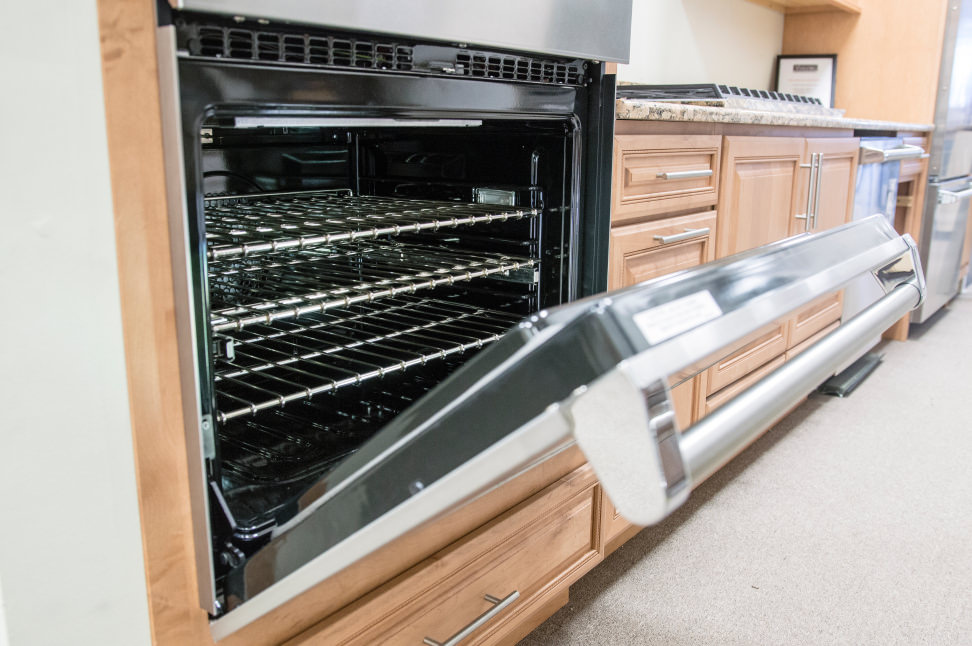 Roasting
Excellent, regardless of the setting.
If your idea of a dinner party involves a savory roasts, this Viking may be the wall oven for you. We roasted three pork loins in the VEDO5302SS, one for the standard Roast setting in the upper cavity, one for the Standard Roast setting in the lower cavity, and one for the Convection Roast setting in the upper cavity. Amazingly, all three roasts came as close to perfect as we have ever seen.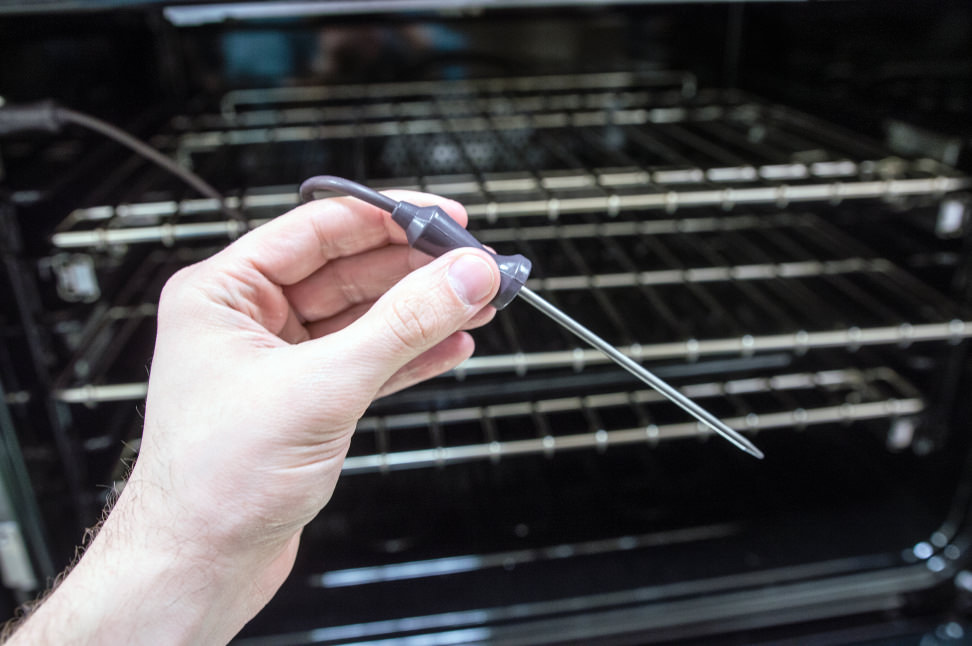 All three roasts remained succulent after the cooking, with between 0.64-0.66 lbs of total moisture loss. All three roasts exhibited even browning, and all three were fairly fast. The Convection setting was the quickest at 29.46 minutes per pound, followed by the upper cavity at 36.18 minutes per pound. The lower cavity was the slowest, at 40.13 minutes per pound.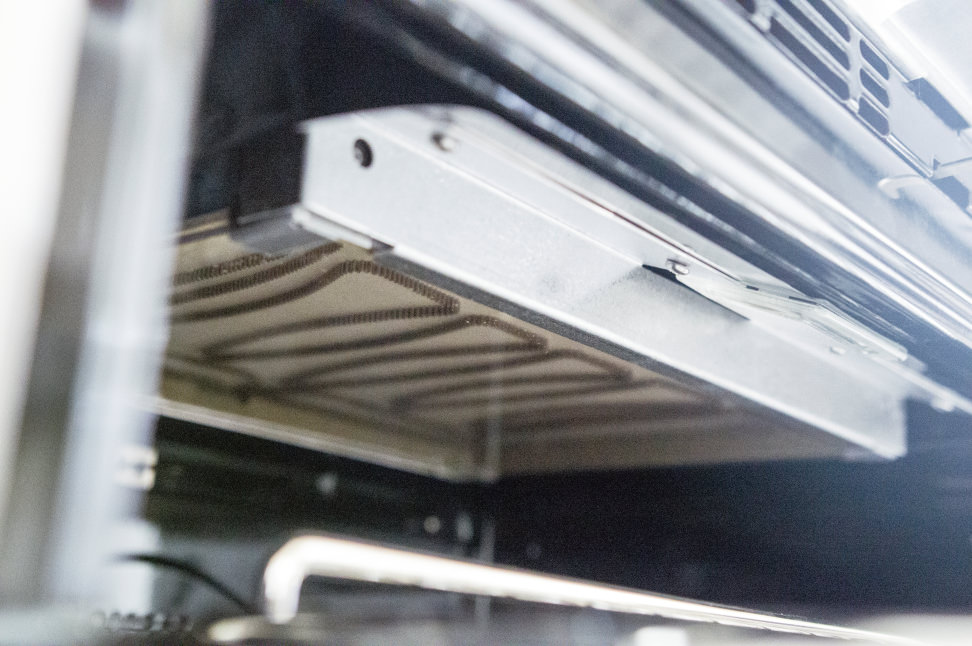 A Difficult Decision
Viking victorious?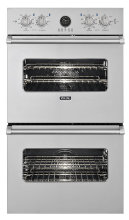 With new ownership, new products, and a new three-year warranty, Viking has weathered a tumultuous few years.
We weren't sure what to expect from the VEDO5302SS double wall oven. In the end, it proved that the Greenwood, MS-based company is still capable of building world-class products that are as good as any of its high-end competitor. Unfortunately for Viking, there are more high-end competitors out there than ever, each with a double oven that roasts, bakes, and broils just as well as the VEDO5302SS.
But the VEDO5302SS still manages to distinguish itself. It's a beautifully designed appliance, replete with well-thought-out aesthetics and strong lines. It's also built from high-end materials, is an absolute joy to use—and the inclusion of true convection in both cavities is a welcome addition.
Our editors review and recommend products to help you buy the stuff you need. If you make a purchase by clicking one of our links, we may earn a small share of the revenue. Our picks and opinions are independent from any business incentives.
Our editors review and recommend products to help you buy the stuff you need. If you make a purchase by clicking one of our links, we may earn a small share of the revenue. Our picks and opinions are independent from any business incentives.
Advertisement - Continue Reading Below
Our editors review and recommend products to help you buy the stuff you need. If you make a purchase by clicking one of our links, we may earn a small share of the revenue. Our picks and opinions are independent from any business incentives.
Get Our Newsletter
Real advice from real experts. Sign up for our newsletter
Thanks for signing up!